(Confession: I started to write this post when I was really angry. Some things have gone on in my world that are just unconscionable. I wrote some strong sentences in my first draft that showed my literary skills, but very little compassion that Jesus asks me to show. Through my practice of meditation, I came down from my soapbox. I relaxed a little. I tried to become centered on Jesus' words of forgiveness. Did I do it perfectly? Nah. But certainly better than when I started writing this post. I'm still angry, but also filled with an awareness of peace that I desperately want to receive from God. Frankly, the people who made me angry do not merit the attention of adding to my stress. To heck with them. I hope they clean up the mess they made. But, I will also pray and ask God to help them. Sigh. End of confession)
Do you have a problem with forgiveness in your life?  Do you find it hard to forgive? Do you sometimes say, "Well, of course, I forgive, but I will never forget?"
I believe that genuine forgiveness is one of the clearest things that Jesus said. It is also one of the hardest things to do. I can come up with all kinds of self-serving reasons why I may not have forgiven someone who really tried to do me in.
In looking back at my life, there were some people who over the decades really were despicable to me. (Imagine = and I'm such a nice person. What could these people possibly have been thinking? I can go back and forth about forgiveness. I can make excuses why I haven't forgiven. (some of these excuses are quite convincing - at least to me!) Despite the intellectual gyrations that I go through, I finally end up with the message of Jesus to forgive. I cannot nuance it away. I cannot pretend that Jesus did not mean it. It is right in front of me - without qualification. 
I am great at holding onto things, especially thinking about those who did me in. I can come up with reasons why God could not possibly love them. I end up with the words of Jesus once again - Forgive.
Once in a while, I remember that forgiving others is actually in our supreme self-interest. This is not a bad reason to forgive. Jesus is clear that failing to forgive can keep us from heaven. I don't know about you. But not one of those people that tried to do me in is worth not getting into heaven.
Here is the ultimate self-interest quote:
For various reasons, I have been in a lot of high stress situations lately. I don't like this. I know precisely who are the people to blame for my anger. Situations can be complicated, but they cannot be ignored.
When people have been hurt by others, the ones who did the hurting have an obligation to repair the hurt that they have caused. The ones who were hurt have to try ever so slowly, so gently, so steadily, try to forgive.
None of this is easy. Jesus never said it was easy. But it has to be done. He was not kidding!
Sometimes, we find it hard to continue to be with someone who hurt us. Here is one observation that troubles me, but it may offer a way past a tough situation: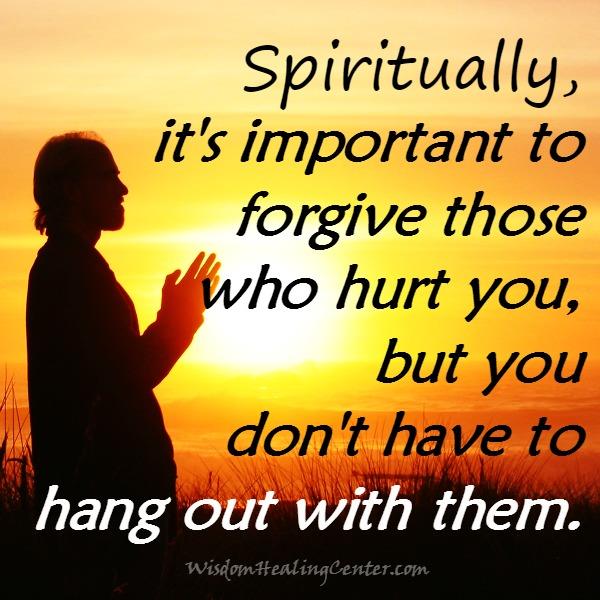 I'm not certain about this quote, but sometimes, the hurts are so painful that separation might be helpful. But sometimes, the grace of God can give us the strength to forgive and go on - and embrace the other person through forgiveness. There are no easy answers, but well worth thinking about.
I just know that we have to forgive. If we don't forgive, we are hurting ourselves - and that is not a very intelligent thing to do to ourselves.
If you're stuck on forgiveness, then  pray what I have come to see is the prayer of last resort concerning forgiveness. Here is the grudging prayer of forgiveness you can say, and I think it is valid:
"Lord, if you have it in mind to help this (fill in nasty word or two), then I won't object."  If this is all you can say, pray it. It shows God that you're on the right direction.
Forgive. Be free. Let God pull you through. We are not asked to go on this path all by ourselves. Don't do it alone. Do it with God - and slowly, over time, you will become free. It is worth it.