(Due to a frustrating combination of technical problems, I have had to truncate some different posts into this one post. I know things are bad when my home office computer, ipad, and blogging software are all unhappy for objectively unrelated reasons. I drove early this morning to my diocesan office where, at least for these moments, everything technical is working that is not part of my iPad or iPad keyboard.
Actually, I kind of like this particular post bringing together Paris, Good Friday, and Easter Sunday. Rather than have such a hiatus between series of posts, I have been trying to find an approach that works for us. Here is what I will do going forward: I'll write a few posts each week. I may comment or give a perspective on events of the day, our world, and the church. Sometimes, I'll recommend books or articles. Sometimes, I'll simply vent - but hopefully will always point this out so that you do not have read the ventings. I'm not a culture warrior. Ain't my thing. I feel strongly about issues. I am unabashedly in favor of life - at every age, stage, social condition, gender, and every other way we classify each other. I am a political animal - meaning that I devour political news and events. I have already read the Mueller Report - or at least those sections that were not covered over with redactions.
I will hopefully invite, cajole, comfort, observe, and share with you joy, meanings, and things important to me. A larger number of people than I ever expected have found this blog somewhat helpful. I hope that continues. Especially since I am a retired pastor, but not yet retired from other responsibilities, this gives me the chance to share things here that I might have shared in homilies, but may not now have the chance to do so. Before I retired, I would have preached at all the Masses about the fire at Notre Dame since it affects so many people. I miss so much that type of contact with all the people at Mass. However, I am grateful for the chance to celebrate Mass at least once at the parish on weekends - and deeply appreciate that invitation.
For those that wonder and others that have gently asked, I'm doing ok. It's a hard time in the church. So much anger. So much pain. Retiring as pastor was the right thing to do - but, oh my, do I miss so many things about it that were treasures - namely the people and the experience. I was far more wiped out as pastor than I imagined. It has taken me a couple of months to start to feel even a smidgen better. Paradoxically, being in the most wonderful parish also took an incredible toll on me. I was thinking that this Easter afternoon will be the first time since I was ordained in 1973 when I will not be totally exhausted from Holy Week and Easter. I'm assigned to lead the Stations of the Cross on Good Friday evening and have the 8:30 and 9:30 Masses on Easter Sunday. Once again, I appreciate the chance as a retired pastor to keep this connection. It does not happen in many places. And I never take this for granted.

Once in a while, and it is a fleeting phenomenon, I feel less stressed. Then it comes right back. I do not know what this condition is called, but I am a world-class worrier. The cumulative effect of worrying may have been the most driving thing in having to retire. So I have a long way to go. If you have things to worry about and you sensibly know that it will do you no good yet you want someone to do the worrying for you, I am always happen to add another worry. I am world-class, at least with respect to worrying.
I wish you a blessed and peaceful Easter. May the risen Christ light up your life and our world.
Now the post!)
--------------------------------------------------------------------------------------------------------------------------
A French priest saved the most precious relics at the fire in Notre Dame:
At 9-11, firefighters carried the body of Father Mychal Judge, ofm, the first official fatality after the 9-11 attack. Mychal had served in one of our Franciscan parishes. I knew him slightly - and always respected him.
Once again, it has taken tragedies, caused by people and caused by fate, to unite the world and people of good will. It was interesting that as the flames were roaring up into the sky over Notre Dame Cathedral a few days ago - so many people in our country found that it reminded them also of 9-11. Totally different causes. But each event touched a spiritual chord in people's hearts. The recognition that we are not in control of so many things. The recognition that our common humanity is what unites us even during times of unrest and disunity. Perhaps especially at those times.
My constant feeling after the fire at Notre Dame was simply sadness. Once again, hearts were broken. One of my most treasured statues is on my desk at the diocese. Here is a larger reproduction: "And Jesus Wept."
This brief Scripture passage is the shortest line in the Bible, just three words. "And Jesus wept." What is your image of God? Of Jesus? I believe God weeps for us. The Gospels tells us that Jesus wept for Lazarus. Well, I believe that Jesus weeps for us a lot. When things like 9-11 happen, Jesus weeps. When Notre Dame, one of the most beautiful churches in the world, is ravaged by fire, Jesus wept. Not because a brick and mortar and wooden church was in danger, but rather for what Notre Dame represents to the world: Civilization. Beauty. Hope. A symbol without parallel of people reaching up to God, to heaven - and our God reaching down to us.
When we weep, we are vulnerable. We are without defenses. I would find it difficult to believe in a God who did not weep. And, for that matter, also hard to believe in a God who did not laugh. The profound nature of grief is one of the things that brings together people of good will. Didn't our world seem less fragmented during the fire at Notre Dame? We set aside our concerns about the problems of the world and focused, at least for a little while, on something primal, something important, something finally worth talking about with each other and our children. For a few hours, we forgot about the soon-to-be-released Mueller Report. This has always been one of my favorite images of Jesus at times like this:
Writing this on Good Friday morning, I go back to some words which I uttered in homilies every year on Good Friday: "Jesus died the death we fear - and saved us from the fear of death." These words make so much sense of things that are senseless. Jesus is with us. As we head into Easter, we need to remember over and ever again that death does not win. Life wins. Eternal life is our reward. Heaven is what keeps us going.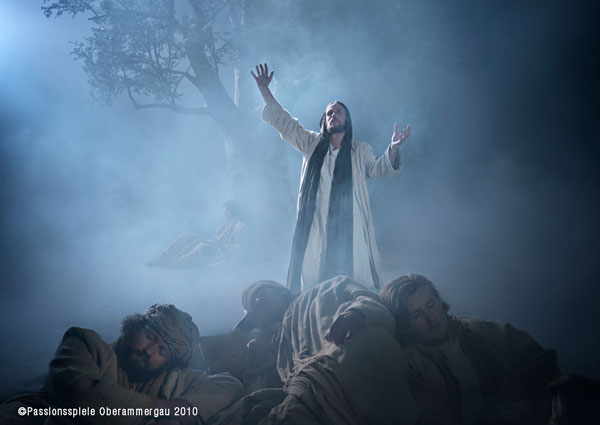 Easter means this: Jesus is risen. There is no need to be afraid. We will never be abandoned. Why? Because God never ever abandons the ones he loves. Easter is the feast of the God of Non-Abandoning Love. If every single thing just gnaws at you and gets you down, try to remember this - the most basic and important truth of our faith. Jesus came out of the tomb for us. He takes us by the hand. If we run from him, he will catch us. And hold us. And love us. Forever and ever.
(See you more frequently in this blog.)