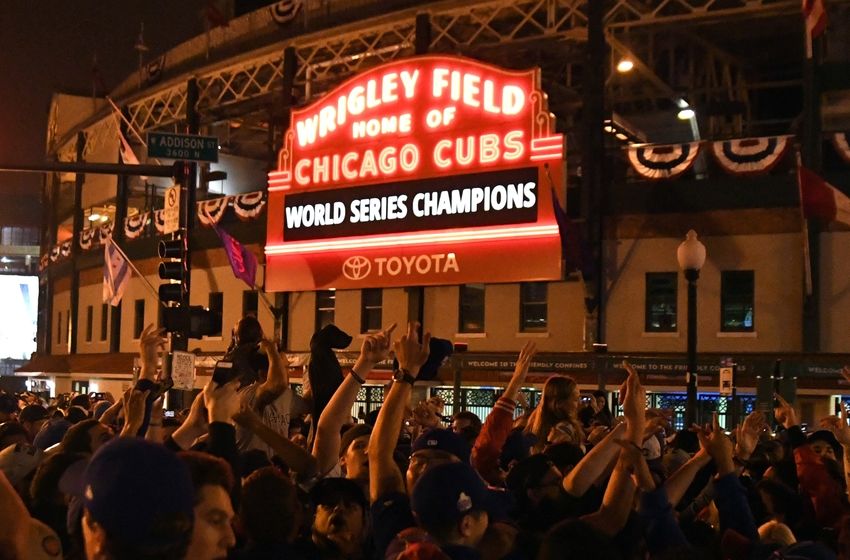 I participate and flourish in a Church founded by Jesus and led by Peter– and filled with heroes called Patrick, Francis, Catherine of Siena, Thomas More, and modern martyrs into this very year.
I participate and flourish in the tradition of a team headed to the World Series for 108 years – a team energized in the early 20th century by Bill Wrigley and Bill Veeck Sr,  with heroes called Ernie Banks, Ron Santo, Ferguson Jenkins, Billy Williams, and now Kyle Hendricks, Javier Baez, Anthony Rizzo, Kris Bryant, Jon Lester, David Ross, Dexter Fowler, Carl Edward, Jr., and led by Theo Epstein and Joe Madden.
I have been a Cubs' fan since the day I was born. My parents made the decision to baptize me Catholic and to be a Cubs fan. For decades, I had a Chicago Cubs decal or license plate holder on my car. I was born near Wrigley Field. If you lived on the north side, you were a Cubs fan. Being a Cubs' fan taught me loyalty. The same with being a Catholic.
I believe it is theologically defensible to note the similarities between being a Cubs fan and a follower of Jesus, being a Catholic. Jesus told us that those who are last will be first. The Cubs were last for 108 years, now they are first. Jesus told us that a good shepherd would go out and search for the one lost sheep. That happened last Wednesday. Jesus told us to seek a pearl of great price - -- the Cubs did this for 108 years and finally hired Theo Epstein and Joe Madden. Jesus told us to not lose faith – true Cubs fans have done this.
In the Gospel today, Jesus observed that the God we worship is not God of the dead, but of the living. Cubs' fans spent 108 years wandering in the desert trying to find this God of the living. They had some things to conquer, but they decided some things are worth doing. This may be the reason why the Cubs fans throw right back onto the field a homerun ball hit by the other team. They want to want to keep homerun balls hit by their own team.
Jesus calls us to be faithful – is there any group more faithful than Cubs fans over 108 years? The true fans of Chicago were the ones who just grimaced at T-shirts sold with a picture of Jesus – and this wording: Message from Jesus:  Do nothing until I come back.
True fans believed that Wrigley Field, with its grass, ivy, and no lights for night games until recently – gave people a glimpse of the Kingdom of God. The true fans of Chicago were the ones who, year after year, echoed their familiar prayer at the end of each season: "wait until next year." People heard this and just felt sorry for the Cubs fans. No one disliked the Cubs or their fans. They felt sorry for them. Other teams had felt heartbreak, the Red Sox finally triumphed – but the Cubs kept struggling.
The Cubs' journey since 1908 embodied the definition of a saint  - that saints are sinners who keep trying. Saints know heartbreak – a condition far too familiar to Cubs fans. I thought I was experiencing it at the rain delay Wednesday night.
Consider the obstacles they have overcome:
In 1947, Billy Sianis, owner of the Billy Goat Tavern, tried to buy tickets for a game for himself and his goat. He was angry and said, "them Cubs, they ain't gonna win no more."  And they didn't until this week.
On September 9, 1969, the Cubs were playing the Mets at Shea, Ron Santo was in the on-deck circle and a black cat walked between him and the dugout. This continued a Cubs' losing streak.
In the division playoff in 1984, a cooler with Gatorade was spilled in the Cubs dugout. The glove of their first baseman, Leon Durham, was drenched. Gatorade caused them not to head for the pennant race.
Then the fateful day of October 14, 2003. Steve Bartman without malice interfered with a ball hit near him – the rest was history – the Cubs did not win that year – and Steve Bartman was never seen again.
Bad luck, Sadness, Disappointment – year after year. I'm sorry to report that by the ninth inning on Wednesday, the old decades of disappointment were starting to control my own reactions. I almost gave up and was resigned to losing. The Cubs refused to give up. They were loyal to their fans and always loyal to their God. Neither Billy goats nor black cats nor Gatorade nor Steve Bartman could finally defeat them. They kept following a core religious truth for eleven decades: the non-abandoning love of God, intertwined with the nonabandoning love of the Cubs.
This World Series victory reminds us conclusively why Catholics are like Cubs fans – we believe in the non-abandoning love of God – we have setbacks, we have failures, we have scoffers, we have all those who do not believe like we do – and somehow we have a God who will never ever desert us and fans who will never desert their team and players who will never desert their fans. This is why Jesus loves the Cubs – and all those who refuse to never never never never give up.
God bless the Cubs – God bless all those who try to be like Jesus and the Cubs fans = the people who never abandon the ones they love.